For other meanings, see Agony (disambiguation). 
"Original Soundtrack of "Agony". A two-disc edition of dark and disturbing music from the game."
―Steam description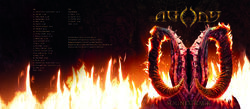 Agony Original Soundtrack is a compilation of music for Agony and its UNRATED edition, released on February 4, 2019. Produced by the music composer Draco Nared and Patryk Karwat, the album is available on Steam to purchase with $3.99 (but requires the player to buy the basic Agony game first). The soundtrack, without Atmospherics and songs by Android Lust, is also available on composer's Bandcamp page for $8.
The soundtrack is composed by Draco Nared and Android Lust, as the band also wrote the songs along with Liane Silva. The album production is consulted by Agnieszka Rumińska.
The album is two CDs; one for musical soundtracks and the other for atmospheric ambient. CD1 consists of 24 tracks while CD2 contain only 4 tracks.
CD1's total length is 1 hour, 3 minutes, and 51 seconds (63:51). CD2's total length is 1 hour, 12 minutes, and 2 seconds (72:02). Combing both time lengths results a total of 2 hours, 15 minutes, and 53 seconds (135:53).
Track List
CD1
CD2
Community content is available under
CC-BY-SA
unless otherwise noted.