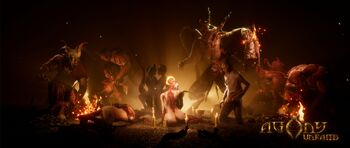 Demons
are supernatural and often malevolent beings residing in
Hell
, prevalent historically in religion, occultism, mythology, and folklore. They appear as some form of antagonists in the
Agony
series.
Description
The demons are described as both beautiful or hideous in appearance. They mostly have hybrid-like characteristics with human and animal traits, in various different shapes.
There are also non-bipedal demons appearing in forms like unto animals. The Leviathan, Snakes, and Spiders are some of the examples.
Hierarchy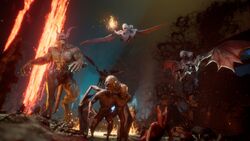 Below is a list of notable, ranked demons. Note that while Nimrod is a new ruler of Hell revealed in his ending from Agony, he is not necessarily classified as a demon.
Emperors, Empresses
Higher Rank
Lessers
Creatures, Beasts, Animals
Unique
* "The Leviathan" note refers the Leviathan as the prince of Hell, although there are more than just one Leviathan seen flying in areas. While there is no Leviathan with different unique traits identified, whether its rank is really true or not remains unknown.
Notes
Community content is available under
CC-BY-SA
unless otherwise noted.