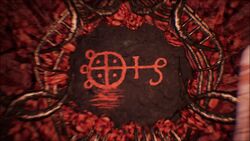 Sigils
are symbols used in magic, usually referred to a type of pictorial signature of a demon.
In Agony, Nimrod must draw the missing/unfinished parts for each sigil to solve the puzzle before progressing his journey. There are over nine sigils to find in Story Mode. Two other distinctive sigils are found in Agony Mode.
Sigils
Sigil I - TBA
The Sigil of the Innocent Sinner - Located in the Chamber of Innocents.
Sigil III - TBA
Sigil IV - TBA
Sigil V - TBA
Sigil VI - TBA
Sigil VII - TBA
Sigil VIII - TBA
Sigil IX - TBA
Sigil X (Agony Mode exclusive)
Sigil XI (Agony Mode exclusive)
TBA
Demons
Almost all of the sigils appear to represent specific demons:
Notes
Every sigils are actual demon seals directly from the demonology grimore: Lesser Key of Solomon. This literature contains information and details about demons, summoning, occult spells, etc.
In Agony, when Nimrod's bodiless soul is about to die, numerous sigil parts appear for every split seconds.
Community content is available under
CC-BY-SA
unless otherwise noted.